SAVE THE DATES!
Thrive Holiday Show
    Mark your calendars for Thrive's upcoming Holiday Show on November 4th, 2023! This show is a collaboration of many extremely talented Colorado artists whom I am excited to show with! I will be creating over 12+ new mini landscapes for sale. I am thankful for everyone's support with this upcoming show and can't wait to see both familiar and new faces!
Thrive Holiday Show
November 4th, 1-5 pm
3213 Galena St
Denver, CO 80238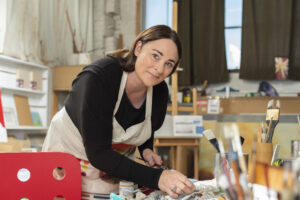 It's that time again…HOLIDAY OPEN STUDIOS! December 2nd, 12-5 pm located at my wonderful studio space at
Blue Silo Studios 4701 National Western Drive, Denver 80216.
Over 12+ studios will be open for you to roam through. You don't want to miss it!